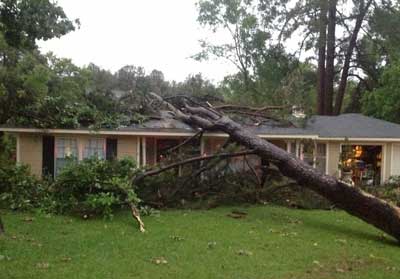 Tree work is an extremely hazardous occupation which requires knowledge of cutting techniques, rigging, tree physics and powerful equipment like chippers, chain saws, and cranes. Homeowners should be cautioned about attempting any tree or branch removal themselves, or using ladders and chainsaws in a tree.
A tree professional will assess and inspect a dead or rotted tree, identifying the defective structure or faulty branches, determining the correct procedure needed for removal. He knows where and how to safely remove trees without causing injury to himself, his crew and the surrounding property. He can control where the falling tree will land to avoid houses, landscaping and other nearby trees. The crew is highly trained to operate dangerous, fast moving equipment, bucket trucks, cranes, and stump grinders to successfully get tree work done efficiently and without incident.
Some hazards that homeowners may not take into consideration include power lines, which can cause electrocution if accidentally touched, faulty, dull or defective chainsaws, use of ladders in a tree, and not fully understanding the weight and engineering of the tree itself.
Never attempt to remove a tree or cut overhead branches yourself. Leave it to the professional tree care operator.
---